Now that a lot of us are at home each day, it is a good time to get outside and enjoy our local nature (while practicing proper social distancing!) Spring is a bird migration season, and the added quiet of having less traffic in my town has really helped me to notice the many feathered friends that we share the area with. Below are some great resources to learn more about this fascinating variety of creatures!
Check out the Mass Audubon Outdoor Almanac for April on birds and critters that are resurfacing this month after a long New England winter.  During walks in our neighborhood and town wildlife reserves, my husband and I were able to spot and/or hear the black-capped chickadees, Spring peeper frogs, and painted turtles.
If your are new to birding, or just curious, and you don't have a guide book at home, try the online authoritative Audubon Society's Guide to North American Birds for visual and song identification.
Cornell's Lab of Ornithology All About Birds guide let's us discover birds from home in a myriad of ways: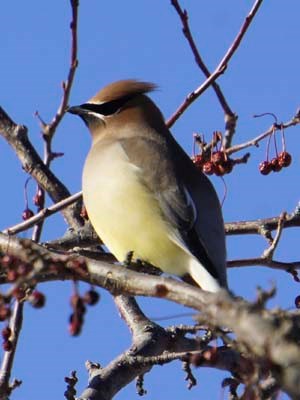 Enjoy the beautiful, full-color photographs and informative details of DK's American Museum of Natural History Birds of North America without the heft by accessing the ebook via Overdrive.  Curious about bird intelligence?  Listen to Jennifer Ackerman's e-audiobook, The Genius of Birds, as she travels around the world to the most cutting-edge frontiers of research on bird development.  For an engaging and personal account of living with and observing birds, you're in for a treat with Sy Montgomery's Birdology:  Adventures with a Pack of Hens, a Peck of Pigeons, Cantankerous Crows, Fierce Falcons, Hip Hop Parrots, Baby Hummingbirds, and One Murderously Big Living Dinosaur also available in Overdrive.
Now, go outside, look up and tell us what you see or hear!