In this third installment of the memoirs of Lady Trent, hero and dragon naturalist Isabella must navigate treacherous seas, international politics, and quasi-Victorian concepts of propriety in order to study the dragons of many continents. From sea-serpents to fire-drakes, any dragon that needs studying is worth endangering life and limb for.
This was unquestionably an entertaining book. Written in a Victorian-esqe style, it was a convincing anthropological tale of a world analogous to ours. While its criticisms of 19th-century class and gender mores wasn't necessarily original, it was still fun to root for a heroine who was on the right side of future history. A little gender studies-worthy cultural mix-up is handled with aplomb and enriches the story.
But I kept expecting more from this book, which had clearly been so thoroughly researched. I don't know if I'd feel differently if I'd read previous Lady Trent stories, but this just felt oddly light in the loafers. Maybe I'm too used to Hollywood, where she'd get the guy and be accepted into the Highly Literate Society and overcome all barriers triumphantly to a gigantic round of applause, all within ninety minutes. This wasn't really that kind of instant-gratification story. In fact, Isabella doesn't get even half of what she wants in the end, though she achieves enough in the way of small victories to be satisfied for the moment. That's definitely in keeping with the book's emphasis on realism – as if to counterbalance the magical implications of dragons and ancient civilizations and all that, the book is studiously, stubbornly magic-free – and many readers will appreciate it.
As for me, I wanted her to shack up with the dude, fight the bad guys with cutlasses, and rule over a dragon sanctuary with the power of sea-serpents. I'm a big explosions kind of girl. Victorian-style literature in general has always been too staid for my taste, and while I enjoyed this and recognize that it's a sophisticated and interesting piece of work, I'll probably gravitate back toward Stephen King and David Wong after this.
Also Read: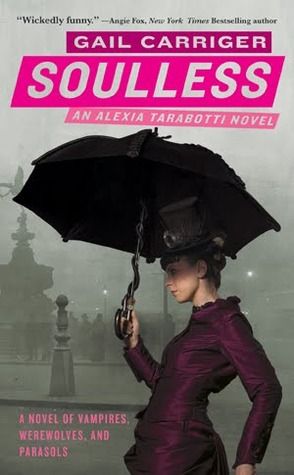 Soulless by Gail Carriger
Alexia Tarabotti's soulless state makes her something of a social outcast. But when she is attacked by a vampire, the sheer level of transgression of manners is simply intolerable. Time to investigate!
Kindred Nature: Victorian and Edwardian Women Embrace Nature by Barbara Gates
Real women rebel, too! This book recounts the impact of pioneering woman naturalists who lived during eras when their achievements weren't necessarily celebrated.
His Majesty's Dragon by Naomi Novik
The British realm is locked in a deadly game with Napoleon's army, and Napoleon has one enormous advantage: dragons. But when the HMS Reliant captures a French ship bearing an unhatched egg, the tide will turn…